FEC Executive Luncheon Meeting in honor of H.E. Mr. Sodovjamts Khurelbaatar, Ambassador of Mongolia
Events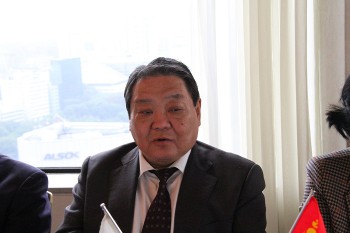 October 27, 2014 (Monday)
Hotel New Otani
UPDATE: Nov 26, 2014
FEC invited H.E. Mr. Sodovjamts Khurelbaatar, Ambassador of Mongolia to an Executive Luncheon Meeting at the Hotel New Otani Tokyo on October 27. The meeting was held on the theme of "Current status of Mongolian Politics and Economy, Prospects for Japan and Mongolia relationship".
At the beginning, Mr. Naohiko Ito, Chairman of FEC Japan-Mongolia Cultural and Economic Exchange Committee (Corporate Adviser of Japan Freight Railway Co., Ltd.) made a welcome remark, "President Elbegdorj made an excellent speech at the Mongolia Business Forum in July. He quoted a proverb and said, "If you want to get a good horse, you should buy now. Because the foal is regarded as good one and it is now good timing." I responded quickly to the Mongolian economic delegation on the stage by saying that I would buy now. I said so because Mongolia looked as foal. Japan and Mongolia have taken a new step, it is time to cooperate together for the global agenda in front of us. I am looking forward to hearing Ambassador's remarks on various topics today."
Ambassador Khurelbaatar talked with timely topics about recent Mongolian political and economic situation and Japan-Mongolia relations. After the speech, he replied to questions from the attendants, followed byexchange of business cards.