FEC Welcomes Mr.Pham Thanh Tuoi, Chairman of the People's Comittee of Ca Mau Province of Viet Nam
Events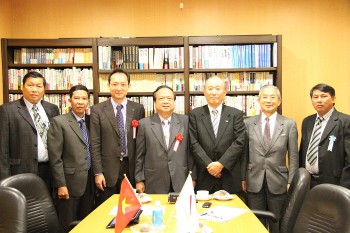 October 24, 2014 (Friday)
FEC Executive Office
UPDATE: Nov 26, 2014
Mr. Nakagaki, Chairman of FEC Japan–Viet Nam Cultural and Economic Exchange Committee (Honorary Counselor of Electric Power Development Co., Ltd) metMr.Pham Thanh Tuoi, Chairman of the People's Comittee of Ca Mau Province of Vietnam at FEC office on October 24, who was on a visit to Japan.
Chairman Tuoi said, " H. E. President Truong Tan Sang visited Japan in March. At that time, Viet Nam and Japan signed cooperation documents in the areas of agriculture and so on. Ca Mau is famous for its agriculture and fisheries; therefore we would like to cooperate for the related projects. We have visited Japan to let the Japanese people know about Ca Mau, and we would like to look for possible Japanese partners. We don't have sufficient know-how and technology, and we believe that we could further level up through Japanese technology. If there are organizations and companies that are interested inCa Mau, I am happy to meet them for discussion. Prime Minister Dung was born in Ca Mau, and he was delighted to hear of my report about this Japan trip. I will be visiting Ibaraki Prefecture, and would like to expand the cooperative relationship with other provinces as well. I hope FEC could cooperate with us in finding our partners."
Mr. Nakagaki said to him, "I visited Viet Nam including Can Tho Municipality three weeks ago. I am delighted to meet with Chairman Tuoi today and to hear about specific topics." At the meeting, they talked and exchanged views on a wide range of fields such as agriculture,fisheries, power, education and medical care.