Events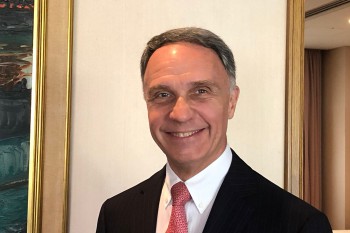 December 2019
UPDATE: Jan 06, 2020
Expectations for trade expansion Between Japan and Argentina
—— Japan and Argentina celebrated the 120th anniversary of diplomatic relations last year. How do you see the progress of relations between the two countries?
Last year, when the G20 Summit was held in Buenos Aires, President Macri and Prime Minister Abe had a meeting in commemoration of the 120th anniversary of diplomatic relations. In June of this year, both leaders met once again before the G20 Osaka Summit. This was a groundbreaking meeting, as it marked the fourth top-level talk in the last four years since 2016. The Argentina-Japan Bilateral Investment Treaties, and Tax Convention for eliminating double taxation, signed by both countries raise hopes that trade and investment will accelerate going forward. Last year the ban on exports of beef and lamb from Patagonia in southern Argentina was lifted, and this also opened the doors for Japanese beef (wagyu) to be exported to Argentina. I believe high-quality Argentinian beef will be welcomed by Japanese consumers. I wish the Government of Japan will expand the regions it approves for exports of beef to Japan to the Pampas and the whole country.
——As Ambassador to Japan, what is your priority mission for further strengthening the bilateral ties?
At the Argentina Embassy in Japan, we have taken the participation of Argentina's national rugby team in the Rugby World Cup 2019 as an opportunity to carry out many activities. For instance, we have held an Argentinian Produce Exhibition showcasing the riches of our land, such as beef, lamb, and wine, as well as trade and investment meetings between business representatives from Argentina and Japanese companies. Furthermore, we have focused on promoting trade of agricultural and livestock products between Japan and Argentina. For instance, the highlands on the eastern side of the Andes are low in humidity, and grapes grown in this location have few diseases. The wine produced in this area is therefore safe and of high quality. Argentinian wine is competitive in both quality and price, and I believe it will gradually gain more popularity in Japan.
——Argentina has started historic political and economic transformation since 2015, returning to international capital markets in 2016. How is the current economic situation of Argentina?
Due to multiple changes in the political parties in the exercise of the government, Argentinian politics is not as stable as in Japan. In the primary election in August, President Macri lost to a candidate of the opposition party by a large margin. It has become even more likely that this candidate will win in the presidential election slated for October. The present course of events resembles what happened in the presidential election in 2015. The electorate will likely cast their vote in consideration of the impact that a change of government will have on their life. The economy has recently been sluggish.The government has announced a string of emergency economic measures such as a revision to some of its current policy, an increase in minimum wage, and tax cuts for workers. The Argentinian economy has taken a huge blow particularly from high inflation and the devaluation of its currency. However, the economy is resilient, and I anticipate that conditions will turn around this time just as they did in the past.
——What trade and investment opportunities can Japanese companies expect in Argentina?
Important investment areas include mining (e.g., lithium and copper), solar, wind, biomass and hydropower energy as well as shale oil and shale gas. For instance, Vaca Muerta field boasts the world's second and fourth largest reserves of shale gas and shale oil, respectively. Japanese companies will likely find opportunities to invest in the liquefaction, transportation, and processing stages of shale gas and shale oil. Agribusiness is also an industry that merits consideration for investment. This industry is looking for cooperation from Japanese companies to contribute to higher added value of processed products, and cold chain is a promising area of investment. Japanese trading companies can contribute to the expansion of exports of Argentina products not only to Japan, but also to China, Vietnam, and other countries.
——European Union has agreed a free trade deal with Mercosur after 20 years of negotiations. Are there any progress in cooperation between Mercosur and the Asian region?
I was involved in FTA negotiations in Brussels for six years. Negotiations between the European Commission and Mercosur had been tough and the negotiating period was  extended many times. The appointment of Mauricio Macri, who supported policies to open the economy, as president of Argentina in 2015 helped finally reach an agreement in June of this year. Mercosur also agreed on free trade with EFTA in August, expanding its free trade network to the entire European continent. Currently, Mercosur is advancing negotiations with South Korea, Canada, and other countries in Latin America. Japanese business people in each member country of Mercosur desire free trade between Mercosur and Japan. I am confident that the Government of Japan will continue FTA negotiations subsequent to TPP11, EU-Japan EPA, and the US-Japan trade talks. Argentina will collaborate and cooperate with Japan in a long-term perspective.
 (Interviewed by Shu Tamaru, FEC Counsellor)