Events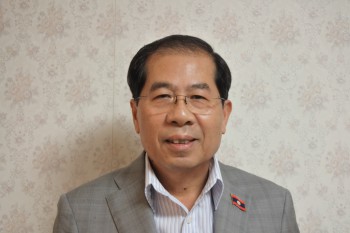 October 2019
UPDATE: Oct 30, 2019
For better connectivity: transition from a landlocked state to a land-linked hub
—- Lao PDR is alandlocked state in South East Asia. Would you talk about the features of your country, including history and culture?
The country of Laos began with the establishment of the unified kingdom of Lanexang which means "one million elephants," in the 14th Century. After enduring dominance by Thailand and France followed by civil conflicts, the Lao People's Democratic Republic was formed in 1975. Laos is a multiethnic nation in which 50 different ethnic groups and languages can be found. The country has a beautiful natural setting, which includes the Mekong River and countless waterfalls and small streams, coupled with rich traditional culture and temples, that are now attracting many foreign tourists. The Lao government is beginning to also focus on strategies to further encourage tourism. For the past 44 years, the country has enjoyed peace, political stability and a solid social order, which has unified and promoted solidarity amongst its people. Laos has joined ASEAN as a principal pillar of its diplomatic policies, and we have established friendly diplomatic ties with 141 countries. We are now transitioning from a mere landlocked state to a land-linked hub to improve connectivity.
—- What are the contents of the government's development plan "Vision 2030″? Is Laos progressing towards graduation from the Least-Developed Country (LDC) category as government goal?
With "Vision 2030" coupled with the current five-year socio-economic development plan, we are trying to achieve a green and sustainable economy and to join with other upper-middle- income nations by 2030. While seeking to industrialize and modernize our country, we have also managed to successfully build a peaceful and just democratic society by focusing on human resource development, reinforcing government structure and improving social services. Conservation and restoration of forests are also key priorities. As for connectivity improvements, considerable efforts are now being directed toward establishing advanced transportation, telecommunications, and logistic networks. A high-speed railway system between Vientiane and the China border is currently under construction and will eventually be extended to Thailand and Singapore. We are also planning to establish a new railway system connecting Vientiane and Vung Ang Sea Port of Viet Nam as well as an expressway to Hanoi. Thanks to continuing rapid growth, the gross national income per person of Laos in 2018 rose to 1,996 dollars. Last year's UN review found that Laos fulfilled the criteria to advance from the LDC category. If we meet the criteria again in 2021, Laos will graduate from the LDC category.
—- How would you overview the recent development of Lao-Japan relations? What are your current challenges as Ambassador to Japan?
Laos and Japan have maintained an amicable relationship for decades. In 2015, we celebrated the 60th anniversary of the formation of diplomatic relations between our two countries. Our relationship has since been upgraded to a strategic partnership, and wider and deeper collaborative alliances were established. As a top official development assistance nation, Japan has long contributed to the improvement of infrastructure, health, education and human resource development in Laos. I am, as an ambassador to Japan, acting as a bridge between both countries, and am actively engaged in efforts to promote joint cooperative development plans. The number of Japanese visitors to Laos is currently about 40,000 annually. We see relatively few Japanese tourists. In addition to efforts to stimulate more interaction, I will also be organizing some seminars and providing information to encourage Japanese corporations to consider investing in Laos. The number of Japanese companies with branches in Laos has risen to 154. I am also expecting small and medium-sized Japanese companies to begin investing in Laos. Business visas extensions for Lao firms visiting Japan is one way to effectively expand economic exchanges.
—-What opportunities can Japanese companies expect from investing in Laos?
Laos is a promising production base. Development of physical infrastructures such as railways, roads, and logistics is now in progress. The procedures required for foreign investment are being simplified thanks to the improvement of the investment law. Political stability and the Generalized System of Preferences for 38 countries are also beneficial aspects of investment. The Lao government has declared it will improve "three types of openings: doors, heart, barriers." Two of those openings have already been improved, but the third one (barriers) is still facing some difficulties  Promising investment destinations include agriculture, food processing and consumer products. Recent examples include the hydrogen business of Hitachi Zosen Corporation, and the hard disk board production of HOYA Corporation. Coffee growing also is receiving increasing attention.
—-What are the challenges for Laos to utilize the framework of the ASEAN economic community?
With the three pillars of trade liberation, investment liberalization and liberation of movement of skilled labors, AEC is working to reduce gaps between countries in the region by improving connectivity. AEC is also encouraging active access to ASEAN markets and technical/knowledge interactionto achieve better economic integration. In Laos, one of the challenges is the promotion of investment and we need efficient schemes to further develop human resources. Fund procurement for infrastructure is needed, and there is a challenge to modernize legal systems. These are things that our national assembly is in the process of addressing.
(Interview by Shu Tamaru, FEC Counsellor)