Executive Meeting with H.E. Mr. Soe Han, Ambassador of the Republic of the Union of Myanmar to Japan
Events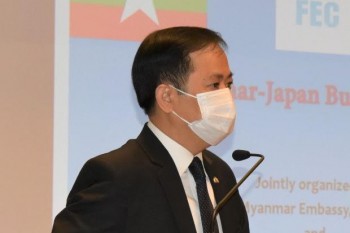 March 24, 2022 (Thursday)
Embassy of the Republic of the Union of Myanmar
UPDATE: Apr 21, 2022
On March 24, FEC held the 82nd ASEAN Executive Meeting (Business Forum) at Embassy of  Myanmar, thanks to H. E. Mr. Soe Han, Ambassador of the Republic of the Union of Myanmar to Japan.
Following the opening remarks of FEC President Ken Matsuzawa, Ambassador Soe Han made a speech, followed by a presentation on 'Trade and Investment Situation in Myanmar' by Ms. Nandar Win, Counsellor, Department of Economic Affairs.
Participants introduced themselves to the Ambassador and exchanged views on possible future cooperation in the economic field between the two countries.