H.E. Mr. Rui Orlando Ferreira de Ceita da Silva Xavier, Ambassador of the Republic of Angola
Events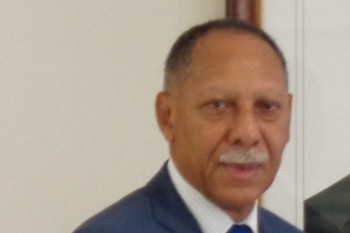 February, 2022
UPDATE: Feb 21, 2022
To Sign the Agreement on Liberalization, Promotion and Reciprocal Protection of Investments
Angola's foreign policy is focused on the pillars of good coexistence, harmony, and peace building with all countries in the world based on mutual respect and diversification in terms of economic cooperation.
Angola dedicates today a special attention to get rid of regional conflicts that still exist in Africa, mainly in the Great Lakes Region, Central African Republic and other countries, after many years of supporting causes of liberation of the people of Namibia, Zimbabwe, South Africa, East Timor and Western Sahara.
The political and economic relations with Japan date from 45 years ago and we can affirm that they have evolved favorably and established today Japan as one of the main partners of Angola concerning its development.
We can affirm that relations are excellent and from our part, we intend a larger involvement of the Japanese companies in the national reconstruction effort and in the private foreign investment, in order to diversify our local economy and to create jobs.
The activities that FEC has been developing are of high value and very prestigious, because it promotes in wide variety of sectors of Japanese life, which we encourage to keep going the same way.
-  Japan and the Republic of Angola celebrated the 45th anniversary of the establishment of diplomatic relations in September 2021. What areas are focused for strengthening the bilateral ties?
Yes, diplomatic relations between Angola and Japan were established 45 years ago. During this period many things have been achieved, especially by Japan's support in the financial contribution to the implementation of many projects financed by United Nations, in terms of health, demining, agriculture, energy and water and others.
It is a wish of both governments, especially that of Angola to increase this volume, as it is being discussed for signing of the Agreement on Liberalization, Promotion and Reciprocal Protection of Investments (ALPPI) in near future to extend this cooperation and to make private companies can invest in Angola in various sectors. It should be recalled that a General Cooperation Agreement is already signed and already in force.
- Angola is the Africa's second largest oil producing country and joined the Organization of Petroleum Exporting Countries (OPEC) in 2007. How do you think about recent crude oil prices?
Angola is in fact second largest oil producer in Africa and its entry into the OPEC cartel is aimed to collaborate with the other member countries to stabilize prices in the international market. The constant fluctuation of oil price is mainly due to the higher or lower demand of oil itself and also due to the various small economic crises that are happening throughout the world.
In our point of view, the current high price of this commodity has made the prices of the final products more expensive, since oil is still the main energy that is consumed today, there is an urgent need for a stabilization of its price at the international level for the good of all the people of the world.
- Would you tell us about your activities and your aspirations as the Ambassador to Japan since you were appointed in 2018, about three years ago?
When I was appointed as Ambassador to Japan, I was tasked for working on improving the relations between the two countries, to bring more and larger investment for the country, encouraging Japanese companies to visit Angola, making it possible to diversify our economy which until now is oil dependent economy.
I definitely can say that my work in the three years in Japan has been quite  successful, because many agreements in wide variety of the area have been signed and some have already been implemented, particularly at the level of  health, support for the fight against the pandemic of COVID-19, agriculture, transport, energy and water, demining and with greater emphasis on the implementation of the integrated Namibe bay defense plan and the construction of the Sacomar mineral port, in collaboration with Toyota  Tsusho Corporation with funding from JBIC.
A negative factor registered in the last two years was, outbreak of COVID-19 pandemic, which slowed down a little Japanese companies going to Angola.
However, even under these difficult circumstances, we are working toward the realization of the official visit of the President of Angola to Japan that was postponed in March 2019. This official visit of the President can give another impetus to the cooperation between the two countries, with emphasis on the signing of the Agreement on Liberalization, Promotion and Reciprocal Protection  of  Investments (ALPPI), and other agreements of mutual interest,as we should remind that Angola has in its subsoil a range of rare mineral resources of the world that could be a great interest to Japanese companies to explore.