Events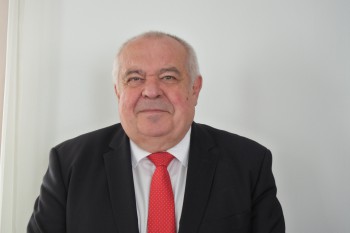 April 2020
UPDATE: Apr 06, 2020
100 years of Exchanges Developed Close and Harmonious Relationship
—– Slovakia, located in the heart of Europe, is an "old and new country". Would you describe the features of the country?
Czechoslovakia, which achieved the democratic revolution in 1989, peacefully dissolved the federal system (velvet divorce) in January 1993, and the Slovak Republic became independent together withthe Czech Republic. Slovakia was integrated into the Euro-Atlantic structures of NATO and the European Union in 2004, and adopted the common European currency in 2009.Cooperation with the EU and NATO is the base of Slovakia's foreign policy. The country maintains a combination of a market economy with a comprehensive social security system. Slovakia is a compact country blessed with many diverse natural assets. The picturesque scenery, the undulating landscape, the sheer diversity together with its kind climate serves as an ideal backdrop for tourism and sports. Slovakia is decorated with castles almost as a marble cake is sprinkled with sugar. Slovakia has world's highest number of castles and chateau per capita. Slovakia is number one car producer in the world per capita.
—– How do you overview the development of Japan-Slovakia relations?What activities and events are planned toward the 100th anniversary of Japan-Slovakia exchanges in 2020?
The story of our ties starts with Gen.Milan Rastislav Štefánik's visit to Japan in 1918, which paved the way for establishing diplomatic relations between Czechoslovakia and Japan in 1920. Over the years Slovak and Japanese people have developed a strong friendship and our countries built enduring partnership that covers broad spectrum of cooperation. High- level contacts have expanded tremendously over the past 100 years. In 2019, Prime Minister Abe visited Slovakia and President Čaputová visited Japan. The friendly relations of our countries, based on shared values, have become increasingly rich and wide in scope, including trade, investment, culture, science, education, sports and people to people exchange. I am convinced that our relations will remain harmonious and the new Reiwa Era will bring us even closer. In 2020, Slovakia is commemorating this important the100th anniversary with Japan by planning various high-level bilateral visits and cultural events such as performances of State Opera Banska Bystrica in Japan. President Čaputová's visit to Japan is also planned.
—– Are there many potential business opportunities for Japanese companies to invest in Slovakia?
Japan is our important business and investment partner. Japanese companies were among the first Asian investors in Slovakia. We have less Chinese presence than Japanese. Korean companies have huge investments in car manufacturers. Now more than 60 Japanese companies are active in my country. Stability, sound economic development and a business-friendly environment continue to make Slovakia an attractive destination for Japanese companies to invest and establish operations, especially in the fields of automotive, energy, ICT, logistics, R&D and innovations. Japanese companies are able to benefit from Slovakia´s comparative advantages such as strategic location, accessibility, Euro as a national currency, stable political and economic environment, wide variety of suppliers, the highest productivity of labor in the region, etc.
—– What kind of regional cooperation is the Visegrad Group (V4) developing?
V4 is a collaborative framework for four Central European countries to work together in the areas of common interest within the European integration and is a constructive EU partner. Japan is also a strategic partner of V4. The strategic partnership of the European Union and Japan is very important dimension of our mutual collaboration. The V4 plus Japan dialogue is important along with the EU-Japan strategic partnership. In recent years, the average GDP growth rate of V4 countries has exceeded 4%, which has been the engine of EU's economic growth. Innovation, R&D and renewable energy are becoming the main focus of the V4 members for their sustainable growth. Slovakia held its fifth Presidency of the Visegrad Group from July 2018 until June 2019. During our V4 presidency, we successfully organized two V4 plus Japan Summit Meetings.We highly value the cooperation of Japan and appreciate results of summits, which has further strengthened both our multilateral and bilateral ties.
—– What is your view on challenges for EU such as refugee and migration policy?
This is a very important issue now and in the coming years. The solution to refugees and unmanageable immigration is not to build bigger fences, but to solve the root causes of migration such as improving migrants' conditions. We need responsible management of the migration crisis and we can solve these challenges through concerted action within EU. Europe faces a demographic challenge. Immigration is one of the measures to tackle aging. In some Central European countries, the population is decreasing dramatically due to immigration outflows. The border is open under the Schengen Agreement. It is natural for young people to leave the country easily for study or work. Slovakia's population is still increasing but not enough. Slovakia accepts many immigrants from Ukraine and the Balkans. They have similar languages ​​and cultures and can be easily integrated into the society without serious problems.
(Interview by Shu Tamaru, FEC Counsellor)