Events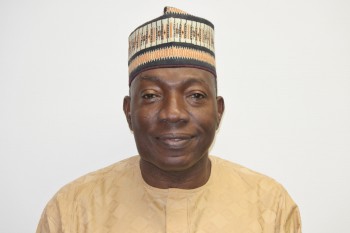 March 2020
UPDATE: Apr 03, 2020
Japanese Companies' Cooperation Sought for Nigeria's Industry Diversification
—— Japan and Nigeria have a good relationship, especially in economic relations. How do you see the development of the relationship between the two countries?
There is a long history of robust bilateral relations which precedes Nigeria's Independence in 1960. Nigeria imports vehicles, machinery, electronics etc. from Japan, and conversely exports liquefied natural gas, oil, sesame seeds, cashew nuts, etc.The Government of Japan through JICA, had assisted Nigeria in the construction of oil refineries, power plants, building of elementary schools. It has also provided scholarship to college students in different fields of study, providing support services to Nigeria Centre for Disease Control and to internally displaced persons' camps. At International fora, the two countries have been working together seamlessly: the support for each other at international elections, exchange of visits between dignitaries of both nations, working together at U.N. including the reform of U.N. Security Council. Prof. Muhamed Bande, a Nigerian, President of the 74 session of the U.N. General Assembly visited Japan in 2019, Mr. Femi Gbajabiamila, the Speaker of Nigeria House of Representatives led delegation to Japan and equally had a meeting with the Prime Minister Abe. Nigeria also maintain a very strong cultural ties with Japan.
—— As Ambassador to Japan, what activities are you focusing on to strengthen the bilateral ties?
I focus on enlightening the Japanese people about Africa and in particular, Nigeria. We offer seminars at the embassy for primary and secondary school students, and I also visit Japanese schools and universities to talk about Nigeria. I've also organized a business seminar and brought people from Nigeria to interact with Japanese entrepreneurs. This year, we also co-organized an investment seminar with JETRO and invited nearly 200 Japanese companies to attend. In 2017, there were about 30 Japanese companies doing business in Nigeria, which increased to about 40 in 2019. President Muhammadu Buhari attended two consecutive TICAD meetings, and Mr. Boss Mustapha, Secretary to the Government of Nigeria, represented the President at the Emperor's enthronement ceremony. In addition, we are advocating for more direct flights between the two countries, also an electronic visa issuance system had been set up at the Embassy for smooth service delivery, and lastly, preparing for the "Japan-Nigeria Special Partnership Forum" to be held in 2020 among others.
—— As a challenge for the Nigerian economy, is industrial diversification progressing?
In 2016, President Buhari announced the Economic Recovery and Growth Plan 2017-2020, which is a policy to promote industrial diversification to escape from excessive dependency on oil. Now the emphasis is on non-oil natural resources and agriculture. Around the 1960s, we were an agricultural nation exporting cacao, rubber, palm oil, and many other crops. Now, the Government deliberately increased funding for agricultural development, through the Central Bank of Nigeria, and this industry is growing fast and our crop export is increasing. The import of rice has been banned since 2 years ago, which is badly affecting our neighboring rice-exporting countries. In August of 2019, our Government closed the border to protect our agriculture industry and prevent smuggling. The infrastructure construction is also important, and we are hoping for cooperation of Japanese companies with high technical capabilities in areas such as construction of rail and power plants (gas-fired, solar power, and coal-fired).
—— There are concerns over the deterioration of security due to attack of the Islamic extremist group Boko Haram. Is regional security cooperation against Boko Haram moving ahead?
Boko Haram is an Islamic extremist organization which is active mainly in the Northeast of Nigeria trying to create an "Islamic country". It is thought that, after Libya's Colonel Gaddafi was killed, many weapons and militants were brought to Boko Haram. We could not afford to allow their terrorist activities because Nigeria is a country where Islam and Christianity coexist. Boko Haram became extreme around 2009 to 2010, and once had control of over 18 Local Government areas. Nigeria and the neighboring countries worked together to get rid of them, and now they are under control and the security has been improved.
—— How would you evaluate TICAD7 held in August? What are the challenges for the next TICAD?
TICAD7 was very successful as a new type of business-oriented meeting. Many side events were organized by African Nations. In the networking session organized by Nigeria, Nigerian participants and Japanese companies met and had concrete discussions about the possibility of doing business together. There was some interest in egg production, waste-to-energy production, power generation, oil and gas, etc. But I thought there were too many side events, and would like TICAD to be more focused. President Buhari discussed oil, Japanese automotive assembly plants, etc. with Japanese Government and company participants, and also discussed the need for establishing the "Japan-Nigeria Business Facilitation Council" and encouraging Japanese companies to do business in Nigeria at the top-level meeting with Prime Minister Abe. I expect that the strong enthusiasm of both countries will produce better results in the next 3 years leading to TICAD8.
(Interviewed by Shu Tamaru,  FEC Counsellor)