Events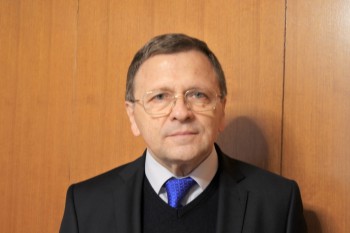 February 2020
UPDATE: Mar 05, 2020
Triple Anniversary brought Bulgaria and Japan closer
——- 2019 marked "Three anniversaries" between Japan and Bulgaria. In connection with this, would you talk about some of the activities and events?
Last year we celebrated, under a joint logo, a Triple Anniversary in Bulgaria-Japan relations: 110 years since the first bilateral contacts, 80 years since the establishment of diplomatic relations, and 60 years since the resumption of the diplomatic relations. A number of commemorative events were held both in Japan and Bulgaria including symposiums, seminars, music concerts, art exhibitions, etc. The bilateral high-level dialogue gained a strong momentum during the year and included exchange of visits by the foreign ministers. In October, Bulgarian President Rumen Radev attended the Enthronement Ceremonies of His Majesty the Emperor, and had a meeting with Prime Minister Shinzo Abe. A special book, titled "Bulgaria and Japan – Politics, Diplomacy, Personalities and Events" was published in Bulgaria and is the most comprehensive documents-based study of Bulgaria-Japan relations to date. Japanese and Bulgarian dignitaries, politicians, artists and musicians were decorated with high awards from both governments for their significant contributions to the development of our relations. A special Postcard commemorating the Triple Anniversary of Bulgaria-Japan relations was issued in Bulgaria. The numerous events – political, economic, academic and cultural – held in 2019 in Bulgaria and in Japan in commemoration of the Triple Anniversary, have brought our countries and people even closer.
——- As Ambassador to Japan, which areas would you like to focus your efforts for reinforcing our bilateral ties?
I would like to further expand our bilateral cooperation in all areas of mutual interest, with a special emphasis on economic and investment area. In recent years Japanese companies have widened the areas and scope of their investment and business activities in Bulgaria. Yazaki Bulgaria built their third plant. SEGA Games opened a new QA studio in Sofia. ZEN-NOH Foods produces frozen sushi in Bulgaria for the European markets. There is a significant potential in IT sector, business process outsourcing, automobile parts manufacturing, machine-building, electronics, pharmaceuticals, chemicals, agro-based industries, etc. Bulgaria offers an excellent investment environment – macroeconomic stability; lowest corporate tax rates (10%) in the EU; skilled competitive multilingual work-force, including a large pool of Japanese speaking young people; tariff-free access to the EU market. Bulgaria is striving also to increase its exports to Japan, including Bulgarian Rose products, Lavender oil, Wine, Honey, herbal preparations, bio-products.
——- What kind of cooperation are Bulgaria and Japan promoting under the "Western Balkans Cooperation Initiative" expressed by Prime Minister Abe?
Prime Minister Abe visited Sofia in January 2018, where he announced the initiative for cooperation with the Western Balkans. Bulgaria and Japan started a practical cooperation and a Workshop on Flood Risk Management was successfully held in February 2019 in Sofia with the participation of experts from both Bulgaria and Japan and representatives of all 6 Western Balkan countries. Such seminars will be held regularly, with a new initiative in this format being scheduled for 2020 in Tokyo. In addition to disaster management, cooperation encompasses also promotion of small and medium enterprises. Connectivity is also a very promising area for cooperation.
——- The EU-Japan EPA came into effect in February 2019. What benefits does your country expect from it?
The EU-Japan EPA provides excellent opportunities for expanding Bulgaria-Japan bilateral trade and economic relations. We can already see its positive impact. Noticeable is the reduction of the sale prices of Bulgarian wines in Japanese stores. There are improved possibilities for increasing exports to Japan of traditional Bulgarian products of renowned high quality, such as wine, honey, milk products, fruit and vegetable preserves, dry fruits and vegetables, bio-foods and meat products, etc.
——- How does Bulgaria address the challenge of European integration in the Western Balkans region?
Bulgaria fully supports the European perspective of the Western Balkans. Their stability and prosperity are important factors for the stability and security of Europe. In our opinion, the EU will not be complete without the integration of the Western Balkan countries. Bulgaria has been working to move forward all the countries of the Western Balkans on their European path, but we recognize that this process is individual, merit-based and linked to the fulfillment by every country of the established criteria. Bulgaria is co-chairing the Berlin Process in 2020 together with North Macedonia, which will allow my country to contribute in an even bigger way to the regional cooperation among the Western Balkan countries and their European integration.
——- Would you talk about the outflow of young people from Bulgaria?
It is true that since the 1990s a number of Bulgarians had left for western countries for study and work. The Bulgarian government has been implementing measures to encourage their return home, and the statistics shows that the return of young Bulgarians has begun. With the Bulgarian economy growing at a sustained high rate in recent years, an increasing number of young Bulgarians see opportunities for a career and personal development in Bulgaria.
(Interview by Shu Tamaru, FEC Counsellor)