Executive Luncheon Meeting with Mr. Tri Purnajaya, Deputy Chief of Mission of the Republic of Indonesia
Events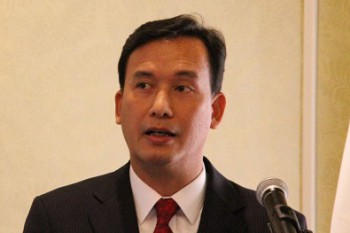 November 20, 2019(Wednesday)
Indonesian Embassy
UPDATE: Dec 27, 2019
On November 20, FEC held an Executive Luncheon Meeting at the Indonesian Embassy thanks to the kindness of H.E. Mr.Arifin Tasrif, Ambassador of the Republic of Indonesia. The meeting was held on the theme of "Second Term Presidency of Joko Widodo: Opportunities and Prospect of Cooperation between Indonesia and Japan". At the beginning, Mr. Tri Purnajaya, Deputy Chief of Mission of the Embassy made welcome remarks on behalf of Ambassador Tasrif who had left Japan for his appointment of the Minister of Energy and Mineral Resources.
Mr. Etsuhiro Takato, Chairman of FEC Japan-ASEAN Cultural and Economic Exchange Committee, Member of the Board, Ajinomoto Co., Inc. greeted on behalf of the Committee.
Following this, presentations were given by Ms. Ni Made A. Marthini, Director of Bilateral Negotiations, Directorate General of International Trade Negotiation, Ministry of Trade, and Mr. Rakhmat Yulianto, Director for Indonesia Investment Promotion Centre Tokyo. After their speeches, the attendees enjoyed talking over Indonesian food.