Events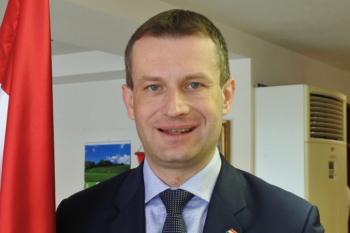 August 2019
UPDATE: Jul 30, 2019
Focusing on IT and R&D for Industry Revitalization
—-Since 1989, why was Hungary able to transition from communism to a free-market economy with relative ease compared with other countries?
Hungary did have a peaceful political and economic transition. In the 1980s, commercial banks had already opened, so did McDonalds, and we also had F1 Grand Prix; and very small-scale private enterprises were allowed. After the start of the market-oriented economy and a wave of growth in the 1990s, Hungary joined NATO in 1999 and the EU in 2004. Although our economy slowed in the second part of the 2000s, the growth rate has recovered to over yearly 4% due to the government's special monetary and fiscal policy. Hungary's systems of education, healthcare, and social security have historically been strong, and produced many scientists and innovators. Some of the most notable include Dr. Ignaz Semmelweis called the "savior of mothers", and John von Neumann who is considered the father of the computing systems.
—-Hungary's favorable geographical position in Europe has led to its emergence as a bustling business hub in Europe. Would you explain some of the growing major industries in Hungary?
Suzuki began operating a modern car-manufacturing factory in 1992; and in addition to Audi and Mercedes-Benz, BMW just decided last year to build a factory in Hungary. Our government is focusing on the fields of innovation, IT, and R&D to rebuild the manufacturing industries, and is encouraging the development of e-vehicles, autonomous-driving technology, and AI. The largest autonomous-driving test track in Europe is currently under construction in the western part of Hungary. Additionally, GS Yuasa and some Korean companies have established their factories to manufacture batteries for e-vehicles. Another promising industry is agriculture. The main products include pork, foie gras, acacia honey, frozen vegetables, wine, and duck meat.
—- Japan and Hungary is celebrating the 150th anniversary of our diplomatic relations in 2019. How do you overview the development of our relationship?
The relations between the two countries are deep and wide. We've had hundreds of Japanese students studying at the Franz Liszt Academy of Music and about 500 medical students are currently studying in Hungary. From a business perspective, Japan is our number one investor from Asia, with more than 165 companies present in Hungary, as well as the biggest export market outside of Europe for Hungarian agricultural products. The export is expected to grow further as the EU and Japan's EPA took effect last February. Budapest has been selected as the best European destination, and we see a growth in Japanese tourists. The whole country is popular for its safety, food, historical heritage, music, scenery, and more than 350 hot springs. Famous Herend Porcelain wares are presented to the winner of each grand sumo tournament. Hungary has recently hosted table tennis, judo, and aquatics world championships. The sports exchanges are very active. As for diplomacy, we are hoping for an official visit to Hungary by the Japanese prime minister which has not happened since 1990.
—-As Ambassador to Japan, which areas would you like to focus your efforts for reinforcing our bilateral ties?
My task is to serve as a bridge between both countries for enhancing mutual understanding. Hungary is a European small giant where ten million people live within a small land, and is considered to be the best location for foreign investment in the central and eastern Europe. I would like to convince Japanese companies of Hungary's trade- and investment-related advantages including the favorable investment business climate. Another important task for me is to let Hungary know how Japan utilizes beneficial information about foreign countries.
—-The Visegrad Group (V4) is an alliance of four Central European countries namely the Czech Republic, Hungary, Poland, and Slovakia. What is the group's aim?
The V4, a bloc of roughly over sixty million people, was formed in 1991 to foster close partnership among the four countries and to make the EU work better. Hungary maintains the favorable partnership with the V4 allies in a broad range of areas such as politics, economy, and culture. The V4 formulate common action plans on many issues. The economic power of the V4 has expanded, and our voices are given more importance. In Europe, it has always been about the connectivity between "East and West", but for example, Warsaw and Budapest is not well-connected in terms of infrastructure. Building the north-to-south infrastructure from Poland to Hungary is an important project of the V4. Outside of Europe, Japan is one of the V4's oldest and strongest partners. Within half a year, the V4 held two summits with Japan, and the partnership continues in many different fields.
(Interview by Shu Tamaru, FEC Counsellor)