Events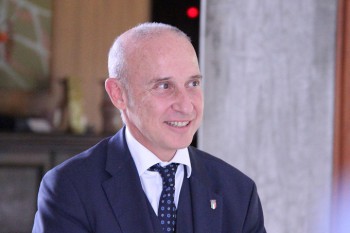 October 3, 2018(Wednasday)
Embassy of Italy
UPDATE: Nov 09, 2018
On October 3, FEC held an Executive Luncheon Meeting at the Italian Embassy thanks to the kindness of H.E. Mr. Giorgio Starace, Ambassador of Italy. The meeting was held on the theme of "The beautiful culture and economy of Italy and the relationship between Italy and Japan". FEC President Ken Matsuzawa made an opening remark and said, "Italy is a major European country leading the world with history, culture, tradition and modern technology. I expect today's luncheon meeting to be meaningful." At the meeting, Mr. Enrico Vattani, First Councillor of the Italian Embassy made a speech on Japanese-Italian relations and Italian economy. Participants enjoyed a video presentation on tourism by the Italian Tourism Board.
Moving to the ambassador's residence, all the attendees took a memorial photo with Ambassador Starace and exchanged business cards.
Ambassador Starace made a welcome remark and said, "Japan and Italy are deepening exchanges in many fields. Trade and investment between the two countries are also active, especially in the first half of this year, the export of Italy to Japan has been rapidly increasing. I would like to expect that our bilateral ties will be strengthened through further development of the friendly Japan – Italy relations.
Ambassador Starace talked intimately with each participant, including members from trading companies, at a buffet luncheon of Italian cuisine. Embassy officials also deepened interaction with participants.