Events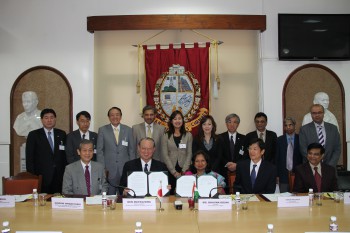 February 23, 2012 (Tuesday)
Indian Merchants' Chamber
UPDATE: Feb 23, 2012
On February 23, 2012, The 7th FEC Delegation to India, visited the Indian Chamber of Commerce (IMC) headquarters in Mumbai. Ms. Bhavna G. Doshi, President of Indian Merchants' Chamber and FE President Ken Matsuzawa memorandum of understanding.
The memorandum aims to promote cooperation with each other to contribute to the growth of economic relationship. Mr. Tamon Mochida, Consul-General of Japan at Mumbai expressed his congratulations after the signing of the memorandum.
After the signing of the memorandum, a Luncheon meeting was held in another room where everyone exchanged constructive opinions and exchanged comments in a friendly atmosphere.